Customising your visitor management system has become even easier with our latest update to the VisiPoint visitor management software suite.
We've listened to your feedback, and are providing customisation options in our latest roll-out along with a few nifty extras that will make the sign-in experience even easier for your visitors, staff and contractors.
The update includes:
Custom kiosk layout
Custom visitor fields
Staff not on-site report
Hardware health icons
Home navigation shortcut
Profile photo editing
Visitor host history
To see how to utilise the customisation options for kiosk layout and visitor fields, watch our tutorial here: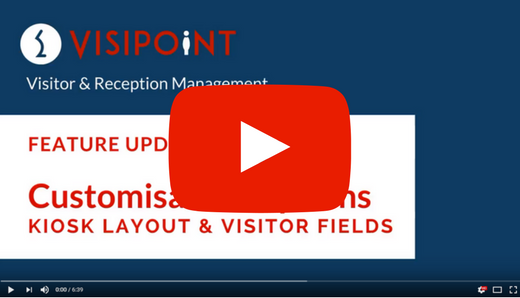 Custom Kiosk Layout
You now have the customisation options to change the layout of your home screen on your visitor management system. In kiosk layout options you have the option to hide sign-in buttons which aren't relevant to your organisation. Maybe you don't want to offer staff sign-in? No problem, just hide the button from your admin portal. You can easily switch on/off the following modules:
Visitor
Contractor
Staff
Delivery
Student (if you're a school, college or university!)
Custom Visitor Fields
We've given you the ability to choose which visitor fields you use to gather data. On top of the three mandatory fields (First Name, Last Name and Company) you can choose to hide, display or make mandatory the following items:
Email
Contact Number
Vehicle Registration No
We've also added a little 'Not from Company' tickbox for any visitors that are not associated with a company for their visit – perhaps a family member – so they can bypass the company field.
Staff not on-site report
You'll find a new report in your VisiPoint we dashboard which easily shows you which staff members have not signed in for the day. Need to check who's not around? Just hit the 'staff not on-site' button in the upper right-hand corner of your daily logbook and the report will generate in seconds.
Hardware Health Icons
Three new status icons have been added to the top right-hand side of your VisiPoint touch screen tablet or kiosk.  There's a status icon for:
Internet connection
Printer
RFID reader
These icons will display in green if these elements are functioning as normal, but will flick to red if there is an error with the connection. Streamlining the process of diagnosing any errors, this will make it much easier for the support team to help you fix any connection issues.
Home Navigation Shortcut
Look out for the red home icon that's new to the touch screen terminal. You'll find it appears at the bottom left of the screen as a user begins the sign-in process. It makes it quicker for users to quit the sign-in process and navigate to the home screen.
Profile Photo Editing
You now have the option to delete or change the photo stored against any profile, just by accessing any visitor or staff profile from the web portal. Have your staff photos been updated? Just change the photo on record in a few clicks.
Visitor Host History
As a visitor signs-in and they come to select the host for their visit, their three most recent hosts from their last visits are displayed before the search results. This is just another little shortcut which makes VisiPoint visitor management even more user friendly and intuitive.
Thank you to all our lovely customers that have helped us come up with these amazing new features. We want to continue to provide you with the best visitor management system, ever. If you'd like to give us some feedback or suggest a new feature, please email us on: techteam@lamasatech.com. We'd love to hear from you!