We were approached by Gateshead Council to solve various problems (Visitor Management System) at the reception of one of their key facilities – Gibside School.
The client
Gibside is a Special Educational Needs school that caters for children aged 2-11 with diverse learning needs. There are over 100 staff members at Gibside – each playing a pivotal role in the care and development of the pupils – and external support staff are brought in to provide specialist services, such as physiotherapy and health counselling.
At reception, Gibside had six signing-in books (staff, parent, visitor, contractor, governor & medical) sprawled across the front desk. This was inconvenient and messy – and each book had it's own set of safeguarding rules attached.
The problem
Paperwork would pile-up with every visitor interaction – due to stringent safeguarding and H&S policies being a requirement at the school. It was a long-winded process to securely register external staff, contractors and governors every time they visited.
As you can imagine, the reception staff were run off their feet and were not able to provide the desired level of service… something had to be done!
Objectives
Consolidate all six sign-in books that were currently being used at reception
Allow staff, parents, contractors, governors and medical staff to sign in
Present each type of visitor with specific safeguaring rules
Improve safeguarding standards within the school, and make the school a safer and more secure environment
The brief
Gibside's management team wanted to provide a better level of service to all stakeholders without increasing their running costs. VisiPoint Visitor Management System consolidated all signing-in books and safeguarding files into one self-service, touchscreen kiosk.
The solution
VisiPoint provided the school with a VisiPoint visitor management system that allowed Gibside School to achieve all of the objectives set out in their brief, and much more. Some of the great features the VisiPoint terminal we provided for Gibside School included are:
A dedicated sign-in terminal to manage all staff, visitors, contractors and deliveries coming to the school
More comprehensive vetting process and specific school policies for all visitors / contractor
Fully self-service, so no intervention from reception and admin teams required
Comprehensive management dashboard, allowing staff to access detailed reports on sign-in activity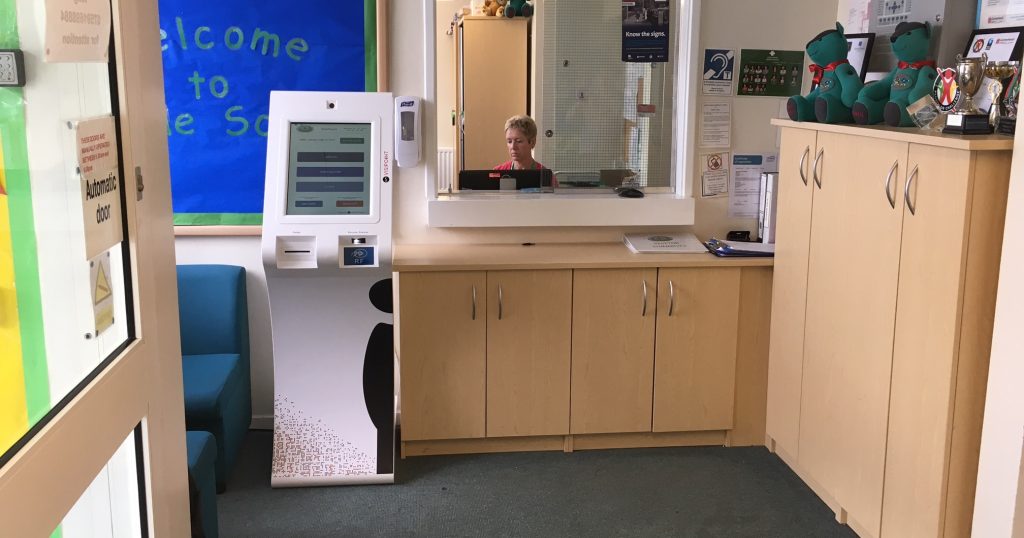 The resources being saved just at reception will equate to a substantial return on investment – with VisiPoint expected to pay for itself within the first year!
The results
Gibside School is now able to provide a better level of service to stakeholders, while heightening their security & safeguarding process. VisiPoint Visitor Management System provides Gibside School with:
• Sign-in terminal to manage all staff, visitors, contractors and deliveries coming to the school – no more paperwork or visitor books cluttering up their reception area, creating a more tidy and organised reception area
• Detailed, easy-to-use management dashboard  – keeps all records updated with enhanced safety & security
• Fully self-service, so no intervention from reception and admin teams required – gives everyone more time to manage their other daily tasks
• Complete register of everyone in or out of the building – whether you're just checking, or need an instant list in case of emergencies
• Less time spent handling visitor requests & contractor vetting, with no costs on paperwork or managing timesheets & reports – giving a fantastic return on investment for the school and giving them significant savings on recurring costs
If you're looking for a comprehensive visitor management solution that improves the safeguarding and service standards of your school while also reducing overall running costs, VisiPoint Visitor Management System could be the perfect solution. Get in touch with one of our expert team to arrange a free consultation