Out with the old, in with the new
We've retired our flagship VisiPoint 13″ sign-in system to make way for something new. Our team of designers have been working hard to improve on the existing model and have created a sleek new device that will truly enhance your reception area. We've reduced the amount of wasted space by getting rid of the sizeable bezel and shrinking the overall surface area. This has enabled us to upgrade the existing 13.3″ screen to a vivid 15.6" touch screen, while still keeping the compact design you love.
Introducing the VisiPoint 15-inch tablet…
Our new flagship VisiPoint 15″ tablet retains all of the impressive features of the VisiPoint 13″ tablet with an impressive new design. With its built-in camera, RFID reader, and QR code scanner, the VisiPoint 15" tablet is perfect for businesses, schools, and healthcare facilities who want to make a great impression and utilise a wide range of features including:
Quick visitor, staff, student, and contractor sign-in
Photo ID badges and permits
Online management dashboard with live reports, accessible on any browser-enabled device
Speedy sign-in using the RFID reader, where staff can clock-in/out using ID card or fobs
Email notifications to staff when a visitor signs in
Visitor pre-registration which allows you to book visitors in advance and offers QR code sign-in to make the process even quicker
Secure cloud data storage and GDPR compliant processes
For schools, you have the option of integrating with your Management Information System (MIS) including Capita SIMS, Bromcom and more
[divider style='left']
Showcase your VisiPoint 15-inch tablet
Our VisiPoint 15″ tablets come with a flat wall mount as standard, or you can upgrade to an adjustable wall mount or choose a desk mount instead.
The mounting options are extremely versatile to fit any reception space. If you're low on space or are installing a device at a secondary entrance point, then a wall mount may be the perfect solution for you.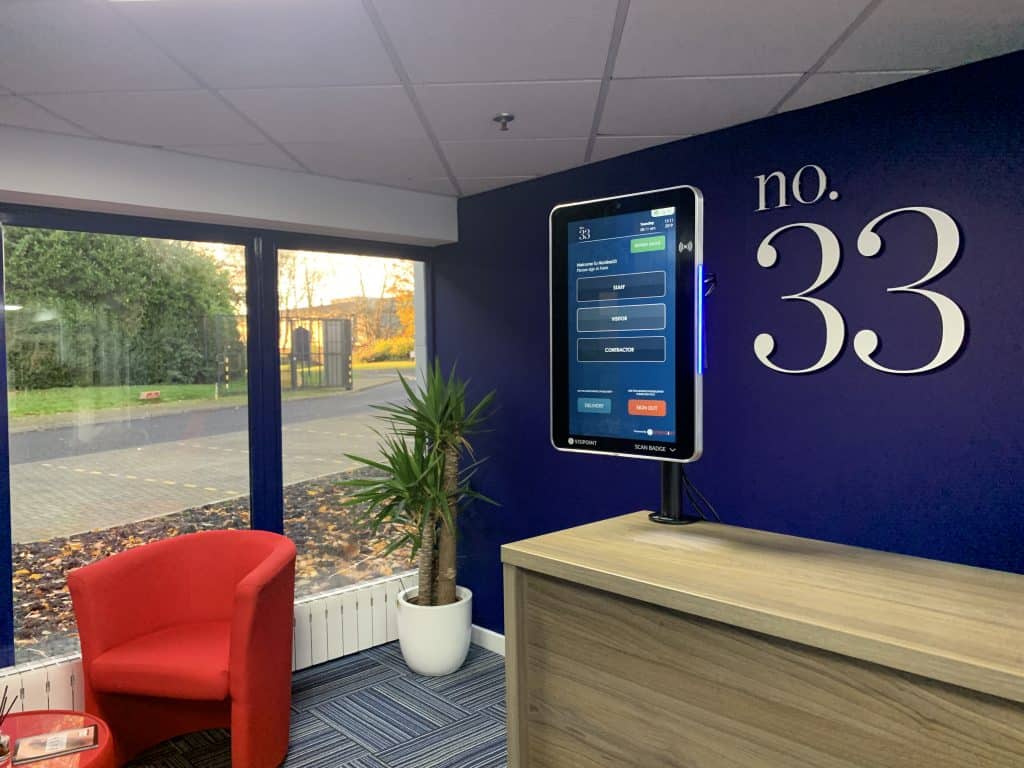 [divider style='left']
[blank_space height='3em']
VisiPoint 15-inch tablet specifications
Vivid, responsive 15.6″ touch screen with toughened glass
Colour-changing LEDs reflect status – turning green when a visitor signs in
Built-in Ethernet, WiFi, RS-232, and USB connections
Built-in 8 megapixel camera
Built-in RFID reader
Built-in QR code scanner
Fully DDA compliant
[divider style='left']
Sophisticated features to maximise efficiency
Our 15″ model is packaged with our Enterprise plan which has some impressive features to make your reception processes more efficient and reduce workload. These include:
Advanced reports and timesheets
Integration with Microsoft and Google calendars
Events, groups and club sign-in
With our Enterprise plan, you can also add one of our advanced modules including interactive wayfinding maps, staff directory and building directory or membership management.
[divider style='left']
Book a demo of the VisiPoint 15-inch tablet here , or call us on +44 (0) 191 341 0016 and arrange your demo at a time and place that suits you!