VisiPoint is attending the fifth annual School Business Management Conference 2017 – a conference devoted to helping school leaders connect, learn and get inspired through a mix of keynote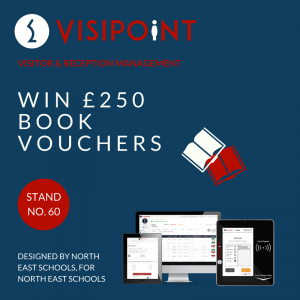 speeches and workshops.

VisiPoint is revolutionising school visitor management by changing the way schools engage staff, contractors and everyday visitors. We are an official Commercial Supporter of Schools North East and work closely with schools in the area to develop hardware and software to support them in achieving their strategic goals. Our Newcastle HQ worked with Schools in the North East to develop our Visitor & Reception Management software, to meet the specific needs of Schools in the North East. Explore VisiPoint for Education here.
We're excited about this year's conference and would like to invite you to our stand so you can get a closer look at our system. Our team will be on stand-by to answer any questions you may have and demonstrate the diverse functionality of the platform. You will also have the chance to win £250 in book vouchers for your school!
VisiPoint is a self-service, self-managed Visitor & Reception Management System designed to automate and streamline the entire process of welcoming and managing visitors. It equips schools with real-time, mission-critical information from its web-based management dashboard. We provide best-in-class site security, visitor tracking, ID management and reporting. On average schools see a 12-month ROI when implementing our school visitor management system. See our pricing & product builder.
VisiPoint can benefit your school by providing:
Paperless reception – no more paperwork and manual data entry!
Comprehensive safeguarding process – security is guaranteed with full history of everyone on site
Evacuation & emergency register – instant registers can be accessed from any browser-enabled mobile device
Contractor vetting – streamline contractor processing and management
Instant staff sign-in and sign-out – real-time visibility of staff whereabouts using existing access cards
Integration with your MIS system – seamless integration provides a fully automated process
Much more!
If you're attending this year's conference, stop by stand no. 60 to see how our Visitor & Reception Management software for school visitor management can empower your staff, maximise resources and enhance security.
What do our clients say about VisiPoint visitor management for schools?
"VisiPoint has improved our safeguarding standards massively – data is stored securely on the cloud. A much-improved way of working." – Head Teacher, Primary School
"I spend less time compiling reports, a couple of clicks and my report is done. Every school should have VisiPoint!" – Business Manager, Secondary School
"The VisiPoint kiosk and tablet terminals are amazing, I think the style will suit just about any space, and the functionality is unparalleled. Couldn't be easier to use too – just turn it on and let it do the rest!"- Primary School Head Teacher, Middlesborough
Not attending the event, but interested in school visitor management?
If you're not attending the event this year, book a demo below to get hands-on with the solution and see how it can transform your school's visitor management.