VisiPoint's campus pack combines campus visitor management with student sign-in, management system integration, wayfinding maps, event promotion, staff & facilities directories and more into a single, self-service solution.
Campus management, redefined
VisiPoint is a self-service, automated campus management solution which allows you to welcome, inform, and guide all stakeholders on your campus.
Universities, colleges and higher education institutions are switching to digital campus management for an efficient and simple way to manage students, visitors, staff and contractors.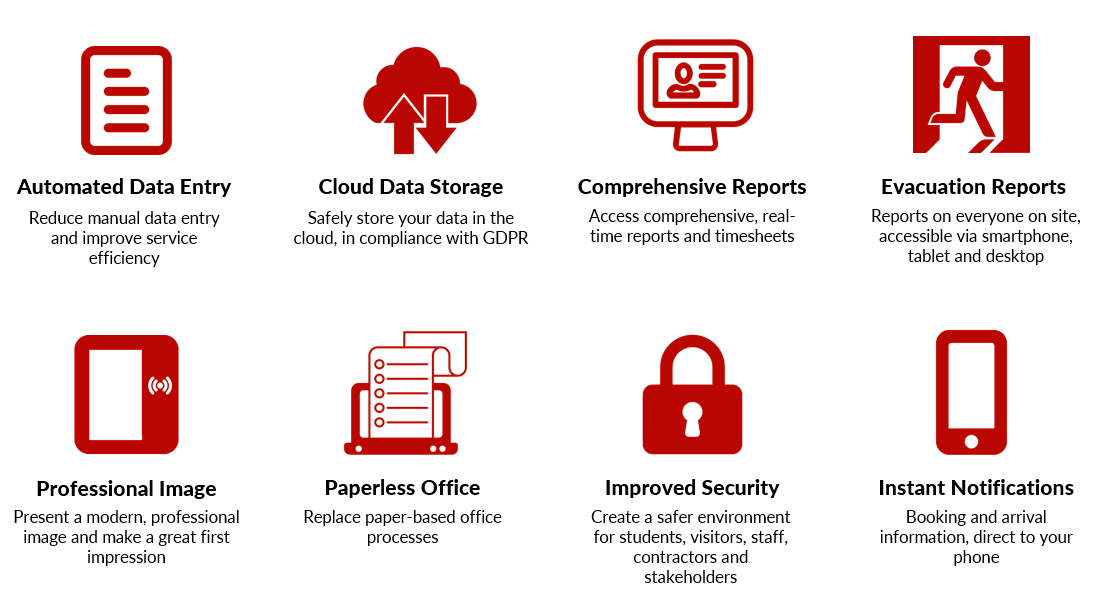 Users can access interactive maps to find their way through campus, view staff and event directory information, and even print their student card – enhancing the user experience and freeing up staff resource to concentrate on other duties.
[divider style='full']
Student management system integration
VisiPoint integrates directly with your existing student and management information and Facilities/Directories Systems (SIS, SITS, MIS).
This provides real-time synchronisation and updating between all software platforms, to automate and streamline data processing, while reducing the need for manual input and intervention.
VisiPoint integrates with many popular management systems, including:

[divider style='full']
Class sign-in, simplified
Students can check in to lectures, seminars and learning facilities around campus by simply presenting an RFID contactless card or tag to the terminal at the entry point of a room.
Staff, contractors, visitors and stakeholders may also check in/out of rooms and facilities across the campus, using the same contactless technology – or by manually entering a name at the touch terminal point.
All check-in/out records are instantly saved and synchronised with your SIS or SITS system, logging attendance and providing real-time student and personnel tracking around campus – especially important in emergency/evacuation situations.
[divider style='full']
Streamlined student enrolment
Self-service terminals enrol and update students, providing them with a comprehensive digital profile, contactless ID cards and access rights for the various facilities around campus.
Streamline the process of enrolling students with single-solution ID cards, automated access control and instant sync with your other IT, student Information and facility management systems.
All student information is recorded and synchronised with your other systems – including:
SIS/SITS
Door Access
Directories
Calendars
Once a student enrols, the terminal prints a student card and instantly gain necessary access around the campus, while being constantly tracked, managed and updated across other systems.
[divider style='full']
Photo ID cards
VisiPoint offers plastic ID cards and paper ID badges using QR codes and RFID technology to allow seamless, contactless sign-in.
Plastic cards can be provided to students and contractors with encoded RFID technology for contactless reading – to work with other access and transaction systems.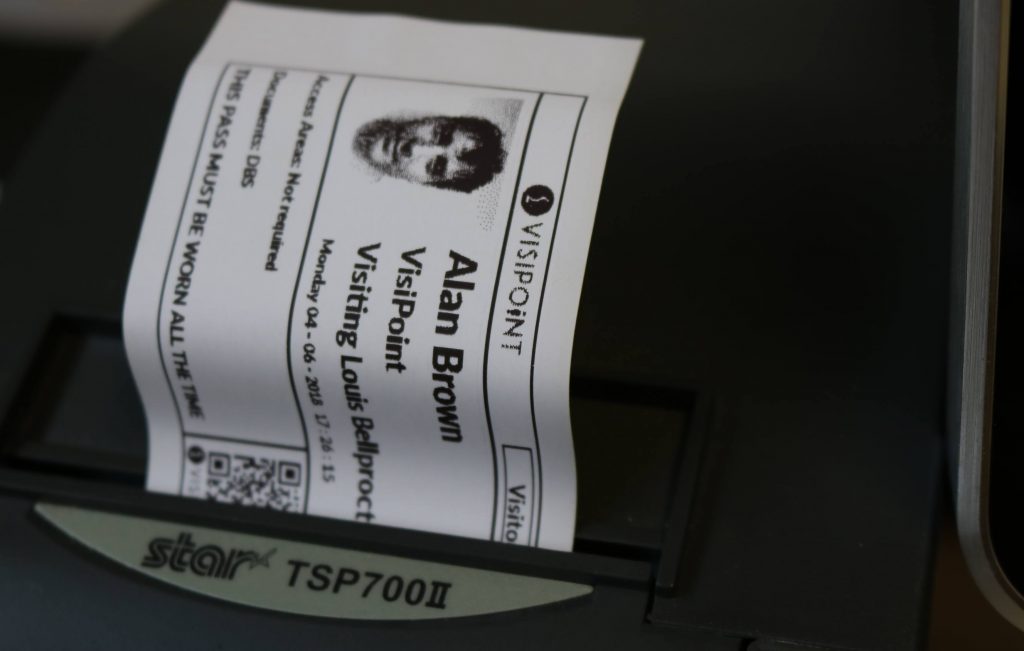 The paper badges feature QR codes for quick scanning in/out at a terminal point for visitors.
Personal credentials and photos are securely stored to create a digital profile for identification, tracking and management purposes.
[divider style='full']
Integrated access control
VisiPoint integrates seamlessly with many door access systems and frequencies, providing control over who has access to your facilities. This includes:
[divider style='full']
Visitor sign-in, registration and tracking
Visitors can sign in within seconds using the campus visitor management system, and administrators can pre-register visitors and track current, future and previous visitors quickly and easily.
[divider style='full']
QuickPass QR code
VisiPoint prints an ID badge with your unique site access QR code when you sign in the for the first time. This allows the user to quickly scan their card to instantly sign in and out.
When pre-registered for a visit to your campus, visitors and stakeholders will receive a QuickPass QR code via email.
This QR code is their unique access onto site, and can be scanned at any VisiPoint terminal point – operating just like a ticketing system, which most people are accustomed to.
Upon completion of the sign-in process, visitors and other personnel coming to site will be presented with a printed ID badge. This ID badge also features a unique QR code, which allows sign-in/out and check-in/out at the various points around site during their visit.
[divider style='full']
Contractor registration, permits and tracking
Ensure a safe working environment across your campus by registering, permitting and tracking contractors and 3rd party employees. Grant access to specific areas on campus to contractors, and only allow them on site once they have passed a specific set of questions.
[divider style='full']
Attain valuable feedback
Provide staff, students, visitors and contractors with an easy and intuitive way to leave feedback using short Q&A screens, multiple choice questions and emoji-like buttons to provide stakeholders with an intuitive method of leaving feedback.
[divider style='full']
Room book and management
Avoid disappointment by reserving a room on campus in advance using VisiPoint's room booking facility. Position VisiPoint terminals outside each room to enable full booking and management capabilities.
[divider style='full']
Real-time sync between calendar and VisiPoint
VisiPoint integrates with popular calendar applications (iCal) such as Google Calendar and Outlook.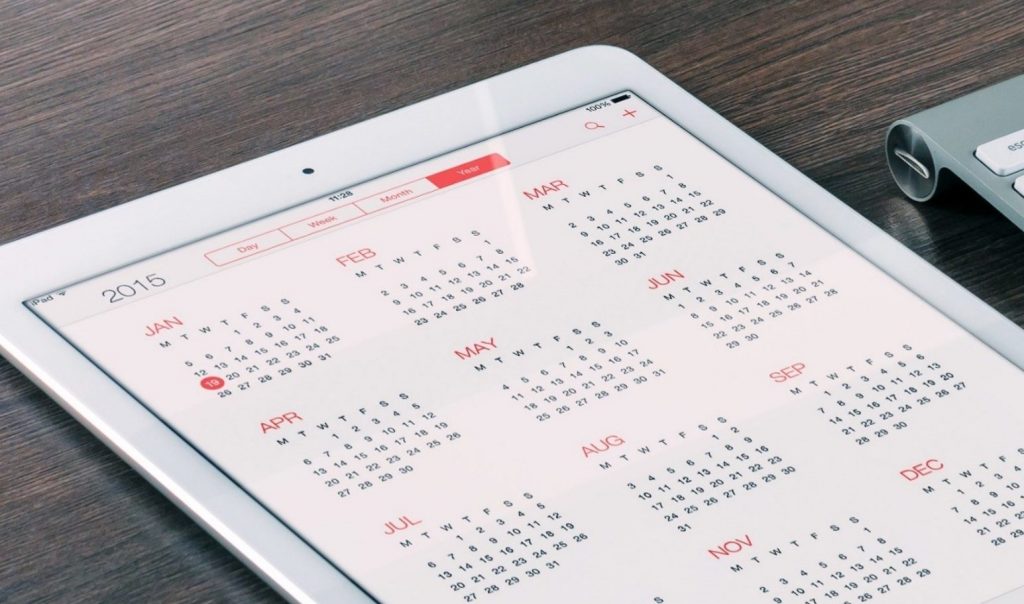 Add your unique VisiPoint email address to your meeting invitations. This will then pre-populate VisiPoint with their contact information, streamlining the sign-in process for your guests.
[divider style='full']
Events and group management
Managing groups of visitors coming to campus, no matter the size, location, demographic or purpose of their visit, simplified.
Event and groups management offers a seamless way of setting-up an event and distributing invites to all attending delegates (and hosts).
[divider style='full']
Staff and facilities directories
Comprehensive reports on staff and personnel sign-in times, available in seconds.
Looking for a particular member of staff in a certain room, or more information about faculties and campus services? VisiPoint's facilities directory has you covered.
[divider style='full']
Promote events and offers
Advertise events on campus and showcase new offers and products with VisiPoint's digital signage functionality.
While your touch terminals and kiosk displays are sitting idle, they can be used to run digital signage content – for relaying advertising campaigns and communications across campus.
[divider style='full']
Detailed wayfinding maps
Navigate your way around campus with ease using detailed wayfinding maps, available on mobile and at any of the VisiPoint campus visitor management systems located across campus.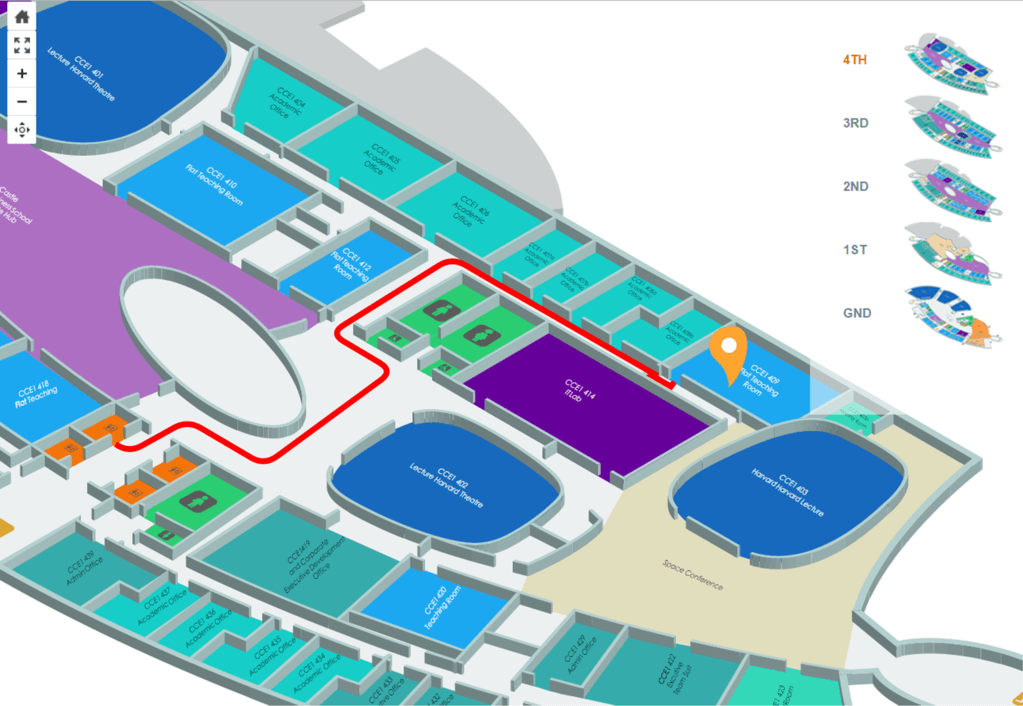 Wayfinding maps provide detailed navigation to any point of interest around your campus – buildings, facilities, rooms, event locations and more.
[divider style='full']
Membership management
With VisiPoint, you can manage membership for on-campus clubs, such as gyms, sports clubs, and extra-curricular groups.
Members are able to create an account, and may add associates who attend with them (eg. member of sports club, plus non-member companions).
[divider style='full']
Self-service site inductions
Provide training, vetting and display health and safety requirements, all from the VisiPoint terminal.
With VisiPoint, you can automate the induction process to ensure anyone coming to site is properly vetted and educated with your processes and health and safety requirements.
[divider style='full']
Contractor management
Grant permissions, vet and manage all of the contractors coming on to your campus premises.
With VisiPoint contractor management, you can send contractor companies and individuals pre-requisites for their visit to your campus, which must be completed and returned in advance of their arrival. This ensures you have all required documentation, certification, forms and sign-offs ready and waiting before anyone turns up to commence work.
[divider style='full']
GDPR compliance
VisiPoint campus visitor management system is fully compliant with the General Data Protection Regulation (GDPR).
All data is processed, stored and managed in accordance with the highest possible standards, with top-level security infrastructure and operational procedures in place.
We respect the right to be forgotten. As such, we allow you to control your data with data masking and data wiping:
Data masking will hide the personal data behind VisiPoint users but will retain data on their arrival times, as this may be useful in the future.
Data wiping allows you to immediately delete all the data held on a single person or a group of people.
[divider style='full']
Touch terminal hardware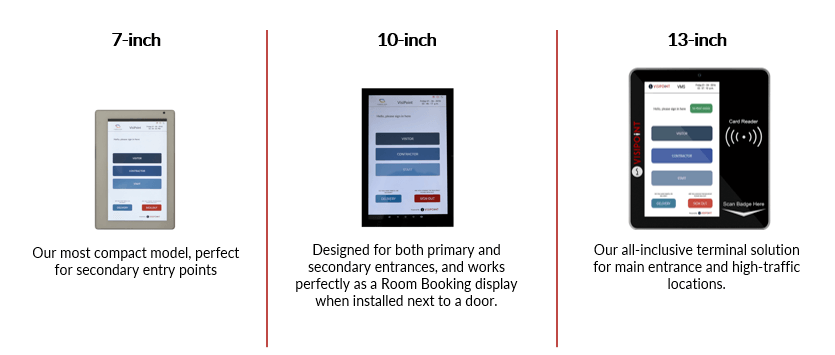 All VisiPoint campus visitor management terminals feature WiFi and Ethernet connectivity, as well as built-in HD camera, QR Code scanner and RFID contactless reader. No external PC is needed to operate the terminals. VisiPoint touch terminals are all DDA compliant.
[divider style='full']
Integrated kiosk hardware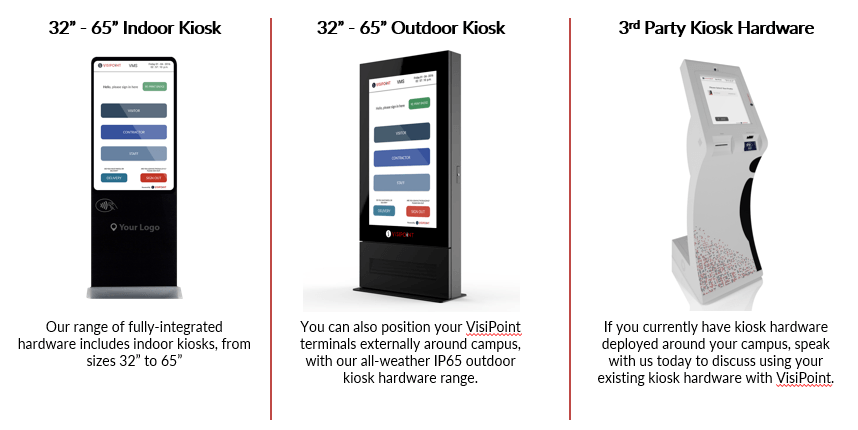 [divider style='full']
If you're looking to switch to a campus visitor management system that offers an all-encompassing solution to campus management, VisiPoint is ideal. Get in touch with a member of our expert team for a free consultation.