Let's explore some awesome ways to create a more effective visitor experience strategy in your workplace.
It can be difficult to strike the right tone between welcoming and professional when you're greeting a guest on their first visit. There's a fine line to tread between the two, and that extends to the behaviour of staff, the welcome and induction processes that a guest has to go through as well as the office environment itself.
So, let's tackle this head-on and tackle some of the most pressing concerns when it comes to creating an excellent visitor experience strategy!
1. Project your workplace culture
It's hugely important that the impression you give to a visitor when they first arrive conveys your company's culture in the right way. 
The choices you make for the way in which your office space is decorated and laid out also make a huge impact on the way your company presents itself to first-time guests and should be a key consideration in your visitor experience strategy.
Want to give off the impression that you're a laid-back workplace but still maintain a professional atmosphere, fit out your corporate office space with homely elements like comfortable seating, plants, and decorations that best reflect your company.
2. Engage with your guest as soon as you can
It doesn't form a great first impression in the eyes of your visitors if they feel like they're not being acknowledged when they walk in the door. Part of the practice of providing a warm welcome for your visitors is being timely with it. 
There are, of course, exceptions to this – you wouldn't want to ignore one visitor you're currently dealing with to go and greet another – but an important aspect of your visitor experience strategy is that all of your guests are engaged with as soon as possible.
3. Ensure your visitor – and their host – has all of the key information
There's nothing worse than arriving somewhere for an appointment and not being sure if you're in the right place, the right time or are there to see the right person.
This is especially problematic in the cases of visitors – and particularly contractors – who may be required to have specific documentation or agree to the terms and conditions of the premises before they are allowed on site. 
A great way to ensure that your visitor's host is aware that their guest has arrived on-site is to automate the process. With visitor management and sign-in solution, as soon as your guest signs in their host will be notified by email that they have arrived and can come and greet them.
4. Offer your visitor refreshments
This is a simple tip that all too frequently gets overlooked. Offering your visitor something as simple as a tea or coffee when they arrive on-site can help to make them feel more welcome. 
Offering refreshments to visitors can also go a long way to allaying any nerves that the visitor might be experiencing. If you have a guest attending your premises for an important meeting, there's a significant chance that they might be feeling quite apprehensive. Offering them a drink or snack could go a long way to putting them at ease.
Again, simple touches like this can make a hugely positive first impression on visitors when they arrive and should be a significant consideration for your visitor experience strategy.
5. Make technology integral to welcoming visitors
One of the key issues highlighted by office staff – particularly reception staff – is that the volume of visitors which flow through reception is difficult to deal with, especially at peak times. If your company has a one- or two-person reception team, it could be challenging and time-consuming to deal with the needs of a dozen visitors.
This issue is one of the primary reasons that so many businesses are investing in purpose-built sign-in solutions to make the process of welcoming visitors on-site much more streamlined and no less friendly.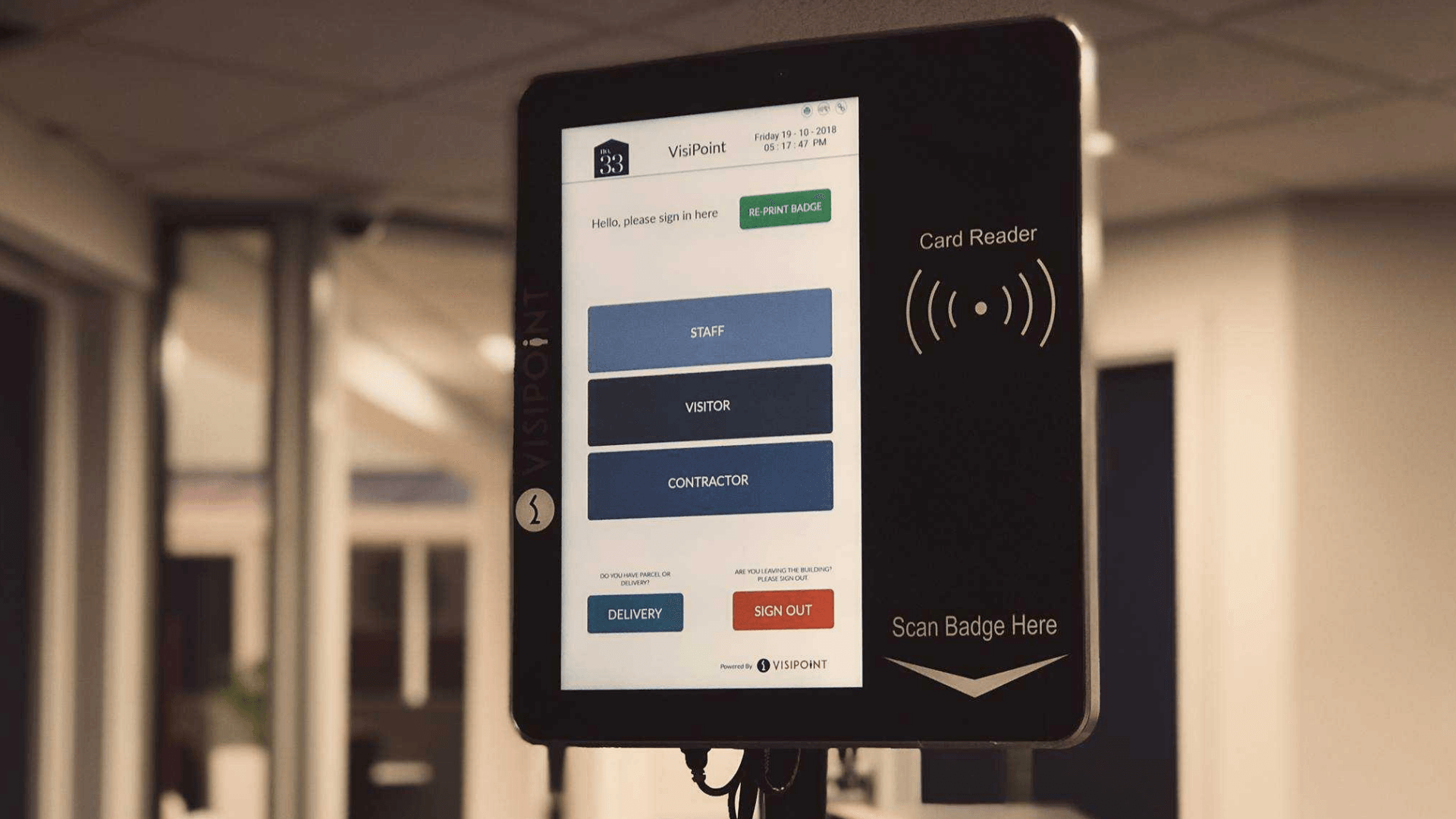 Using a sign-in system, visitors can quickly and easily sign in and out of the premises without the need for the time-consuming processes associated with physical sign-in books. 
Reception staff can even pre-register visitor details in advance, so not only do they know exactly who is will be signing in and when the visitor can also sign in much more quickly and easily.
[divider style='left']
If you want to streamline your sign-in processes while still creating a welcoming first experience for visitors, you need to make a VisiPoint sign-in system part of your visitor experience strategy! 
Contact a member of our expert team using either our contact form or on +44 (0) 191 341 0016 and we'll take you through every aspect of getting up and running with VisiPoint!