Website launch – Visitor Management Business Centres / Managed Office / Education
After months of hard work and dedication from the team, we are delighted to officially announce the launch of our brand new website. Designed with a modern new look , user-friendly navigation and updated with the latest information about VisiPoint. We'll be adding to the website with content such as articles, newsletters, company announcements and client successes in this blog section.
We are also very excited to announce the release of our brand new Desk / Wall mounted tablet. This smaller unit is ideal for Business Centres/ Managed Office Spaces/ Education Facilities with smaller reception areas. It can also be used as a secondary station for larger organisations with multiple entrances / exits.
If that's not enough we've also launched our latest visitor management suite. Complete with remote access and a web-based management dashboard. This allows your organisation to easily monitor, record and capture vital visitor data.
"We've already improved our competitive edge by launching the desktop Visitor Management System earlier this week, alongside the cloud based dashboard and the new website a few days later, the future is looking very good." says LamasaTech CEO, Mahmoud Elsaid. "We've more goals to achieve over the next 24 months, which will bring digital Way-finding to our customer base, at an affordable price."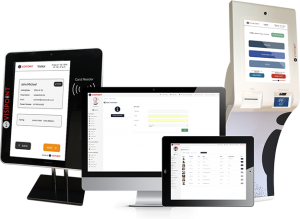 We hope you find our new website with its fresh look, easy to navigate and be able to access information with ease. If you have any comments regarding our website or VisiPoint – please get in touch here. VisiPoint – part of LamasaTech Group of companies.
"The vision at VisiPoint is to provide Business Centres / Managed Office Spaces / Education Facilities an all-in-one solution with premium features at a competitive price exactly what our clients want." said Louis Bell (Business Development Manager)
If you would to comment on the new website or the content of this blog, please email Louis at your earliest opportunity.