As a system user, you will be able to invite or revoke users from the dashboard by using "Available Actions" in the Users section. You'll also be able to add or delete any users and edit their data.
Add a system user/admin to your dashboard
To add a system user, follow these steps:
Access your company dashboard
Select Users from the left-hand navigation menu
Find the relevant user you would like to invite to the dashboard
Click on Available Actions on the right-hand side of the grid
Select Invite to Dashboard.
Anyone you invite to the dashboard will receive an email with a link to accept the invite in their passport account, or to create a passport account if they don't have one already.
Users must set up a passport account to gain access to a dashboard. You can learn more about setting up your passport account in this article.
Once within their passport account, they can accept or reject the invitation.
Accepting an invite from your passport account
If you are invited to a company dashboard and you already have a passport account, you will receive an email to inform you and it will take you to your passport account to accept or reject the invitation. You will see Accept or Reject next to the company name on your list.
When you accept the invitation, you will be directed to the dashboard and if you reject it, the dashboard will disappear from your passport account.
If you don't have a passport account you will receive an email as follows including a temporary password to login to your account once you click on "Click here to accept this invitation"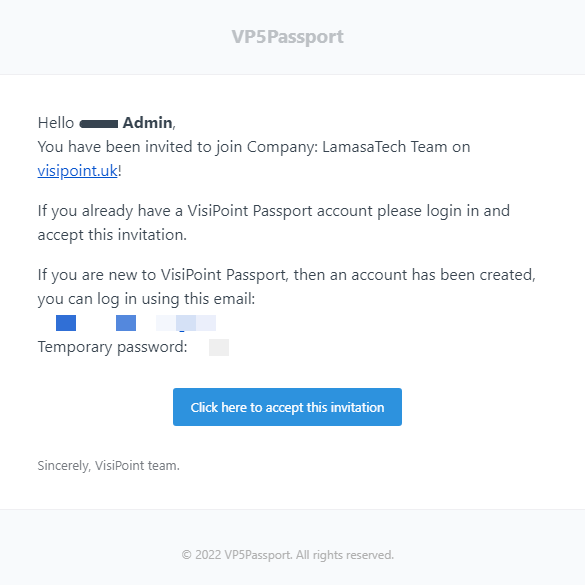 You will be asked to add your current/temporary password and add a new password to login to your account. Once done you will be redirected to the login screen to write your email/username and newly created password.