This feature enables users to generate a QR code entry pass with their details that is valid for 7 days. The user will be able to sign in quickly at any VisiPoint kiosk (which has a QR code reader).
How do system admins allow users to sign in with a QuickPass?
As an admin, you can add QR code as an input method (a way for users to sign in) to your kiosks, in your entry flows using the journey builder. QR code must be added as an entry method or users will not be able to use their QuickPass to sign in.
If you have a standalone VisiPoint license, you can edit your entry flows on your kiosk in the Journey Builder.
If you have a cloud subscription, you can edit your entry flows remotely from your dashboard in the online Journey Builder.
Please note, the public URL and QR code mentioned below will only display on the kiosk screen if QR code is added as an input method in at least one entry flow.
How do I get a QuickPass QR code?
The public URL https://visipoint.me/quick-pass will be displayed on the kiosk screen with a QR code.
The user can type this URL into the web browser on their mobile device or scan the QR code displayed on the kiosk using their mobile device.
On the webpage the user will fill in a form with the following fields:
First Name
Last Name
Company Name – optional
Email Address – optional
Phone Number – optional
Tickbox to register for a VisiPoint passport account – see more info on this below
Once the form is submitted, a QR code entry pass, known as a VisiPoint QuickPass, will be generated. The user can download the QuickPass as a PDF to save it to their device.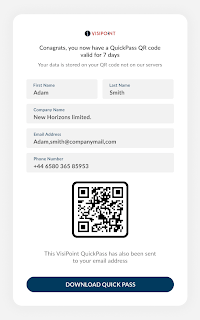 Register for a VisiPoint passport account when you submit the form
Another option you have is to tick the box in the form in order to create a passport account.
This provides you with a personal QuickPass QR code (which never expires) to sign in at any VisiPoint ready location.
Make sure you add either your email address or phone number in the form, then tick the box to register. You will then receive an email with a QuickPass QR code and a link to create your passport account.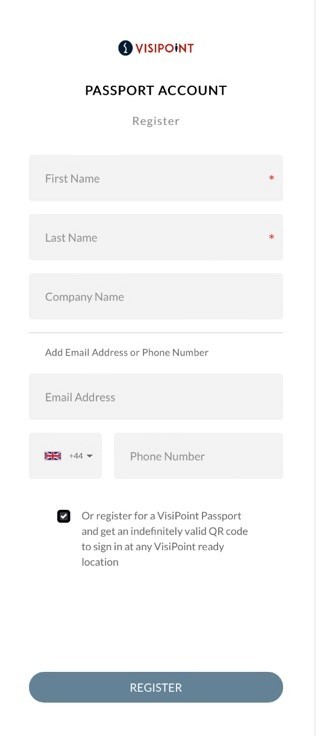 How to sign in with your QuickPass
When a user signs in by scanning their QuickPass they will be signed in with the information they provided in the form as a visitor. The image below shows an example welcome screen which displays the user's details when they successfully sign in.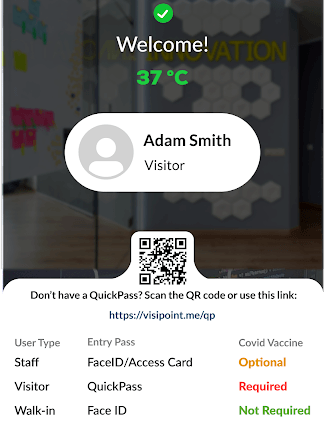 The content of the QR code is encrypted, so the information cannot be copied to a fake QR code. Each valid QR code contains data for the unique user based on the details they entered.