Once you open VisiPoint.me , you will be presented with a login screen where you can log in if you are an existing user.
New users can click to sign up at the bottom of the page to create an account.
When you click on sign up you will see the following screen with the option to sign up to VisiPoint Passport or Company Dashboard.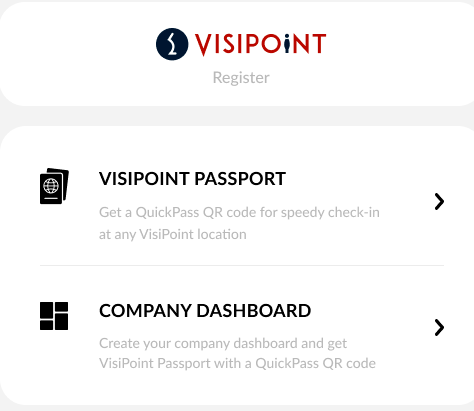 If you simply wish to create a user account, you can click on VisiPoint Passport and follow the steps. You can find more information on VisiPoint Passport in this article.
If you are registering kiosks for the first time or getting started with VisiPoint, you will choose the second option. This will create your personal user account (VisiPoint Passport) and your company dashboard at the same time.
Create your company dashboard
Once you click on Company Dashboard you will need to process through 3 steps. The first step is Personal details which you can see below.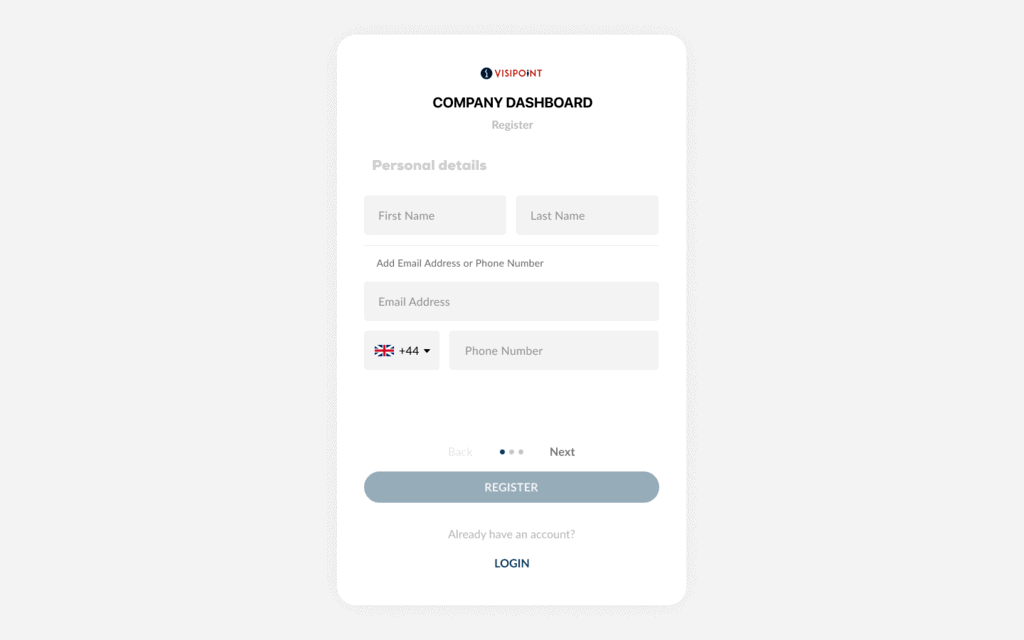 A temporary password will be sent to your email address to allow you access to the dashboard once you complete all 3 steps.
Once you've completed the fields, click Next.
If the email address is already present on an existing user account, a message will be displayed as following "Email address already exists, register with a different one or Login" If you click on Login it will direct you to the login screen.

Please refer to Reset password article if you've forgotten your password,
On the Company details page, you will add the necessary information about your company/organisation. The subdomain is a unique entity URL which is used to identify your account, so a good choice to enter would be your company name.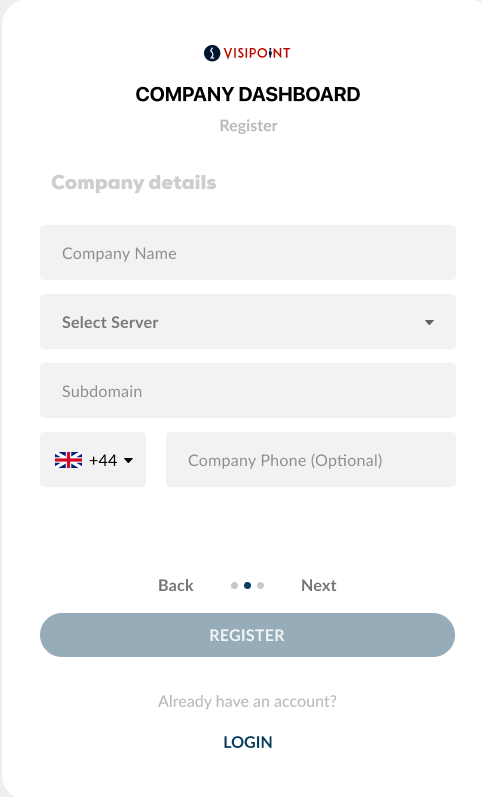 The last step is where you enter information about your kiosk – including the date of purchase and kiosk model. The Android Serial No and MAC address can be found by clicking on 'View Info In QR Code' under the QR code on the kiosk registration screen. The LamasaTech serial number is on the sticker on the back of your device.
If you have more than one device to register, you will do this later.
When you are finished click on Register. You should receive an email with your login credentials to access your passport account and dashboard.
Dashboard functionality
If you have a Standalone license, your VisiPoint account is used to register kiosks and see your list of kiosks. Cloud functionality is restricted – the other areas of the dashboard are greyed out as you can see below: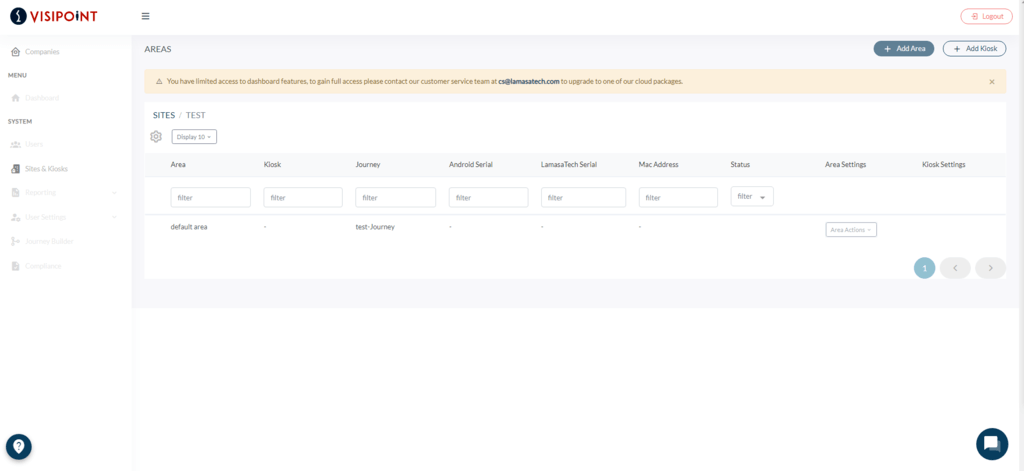 To gain access to cloud functionality, you will need to sign up for a VisiPoint cloud subscription.
VisiPoint Cloud is a remote management platform that allows you to control your full device fleet from one dashboard remotely. With a Cloud package you can:
Monitor your entry logs in real-time
Apply changes in bulk to multiple devices
Bulk import user lists
Create custom user types
Build user journeys and apply to areas or individual kiosks
To upgrade to a VisiPoint cloud license, please contact your account manager at LamasaTech or reach our team using the live chat bubble on the right of your dashboard.